Get to Know Our Women's Health Experts and Certified Menopause Practitioners: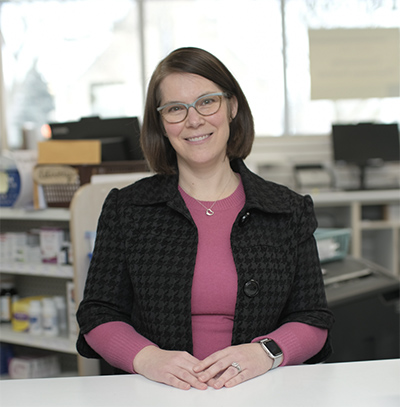 Kerry has been a Pharmacist in the Hamilton-Burlington area for nearly 20 years. You might say she was born into it as both of her parents were also Pharmacists. As a young child her dream in life was to become either a Detective or a Pharmacist. She likes to think that she chose the safer profession! She has come to realize that as a Pharmacist she also gets to play detective as she takes the clues she learns from her patients to help them find the best health outcomes.
You can find Kerry in the pharmacy dispensary or in the consultation office where she sits down with patients discussing the clues to their health plan and specializing in women's health. She is often out in the community helping patients in their own home when they are unable to travel into the Pharmacy.
When not in the Pharmacy, Kerry loves to be with her family out on the ski hill in the winter or in the garden in the summer.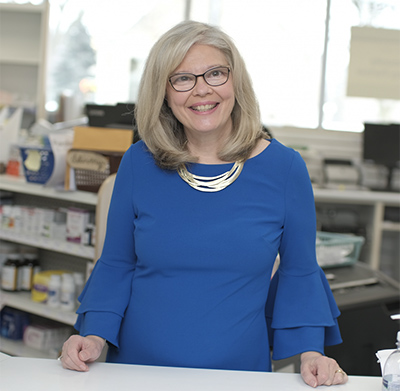 Carolyn
is proud to have been a part of the Brant Arts family for over 30 years
! During this time, she has developed an expertise in compounding, WH, arthritis, smoking cessation and integrative medicine
. Carolyn values the connections she has made with her patients over these years. You can hear her contagious laugh
from the moment you walk in the pharmacy because she truly loves what she does! It is no surprise that she has earned several awards including the National Commitment to Care award
.
Growing up in Burlington, Carolyn was a member of the Burlington Teen Tour Band
and performed in many musicals
. Don't be surprised if you hear her singing away
in the pharmacy – she just cant stop herself! She enjoys public speaking and in fact has been a lecturer
at the University of Toronto, Waterloo and McMaster and has also appeared on radio and television
. She gives lectures to health professionals and the public on various therapeutic areas.
Carolyn enjoys travelling abroad and discovering different cultures
. She loves to cycle
with her husband and friends and is very proud of her 2 daughters
as they succeed in their own careers.
At a recent conference, it was shared that "In kingdom of wellness – the king is exercise, the queen is nutrition and everyone lives with good sleep and socialization"
. This truly is the foundation of wellness.
You will often hear Carolyn say, "a day without learning is a day wasted!"